Capitalism and chaos are two of the essences of modern American life.
For many of us, in a society that is full of abundance and commerce, our lives revolve around a cycle of production and consumption. And these days, that cycle is online. At any given moment, you can use your computer or smartphone to do everything from working remotely to shopping online. The possibilities are endless in terms of how you make money—and how you spend it.
But what about the space between production and consumption? It may not be common for Americans, but many people around the world spend a significant amount of their time enjoying the present moment, during which one is neither making nor spending money.
"Dolce far niente" is the Italian expression for "pleasant idleness", "carefree idleness", or—as "Eat Pray Love" (2010) puts it—"the sweetness of doing nothing".
Italian sensibilities have influenced a subset of Americans who have adopted a lifestyle known as "slow living". Slow living emerged from the Italian Slow Food movement founded by Carlo Petrini, who "famously pronounced when McDonald's opened in Rome, 'We don't want fast food. We want slow food.'"
The shift that has come along with the rise of the Slow Food movement reveals that perhaps the distance between capitalistic, chaotic lifestyles versus slow lifestyles is agriculture. In a socioeconomic sense, our society heavily relies on an industrialized approach that has completely erased the need for most people to work with their hands and the soil like our ancestors did. Most of the residential areas of the country aren't optimized for that anyways.
"More than half of American households identify as suburban: 52%, versus 21% rural and 27% urban."

— "How to Tell If You Live in the Suburbs", Bloomberg
To better connect to nature in a predominantly non-rural setting, it is important to design an outdoor space that is optimized for your needs. One of the most exciting trends seen in the past few years is the increasing popularity of outdoor dining rooms, outdoor offices, outdoor kitchens, and outdoor living rooms.
Hardscape patio design is especially popular in areas like San Diego—it's hard to say "no" to spending time outside where the weather is amazing year-round. Hardscape adds materials like concrete and stone to a landscape, which is perfect for homeowners who want to have a low-maintenance patio for their home.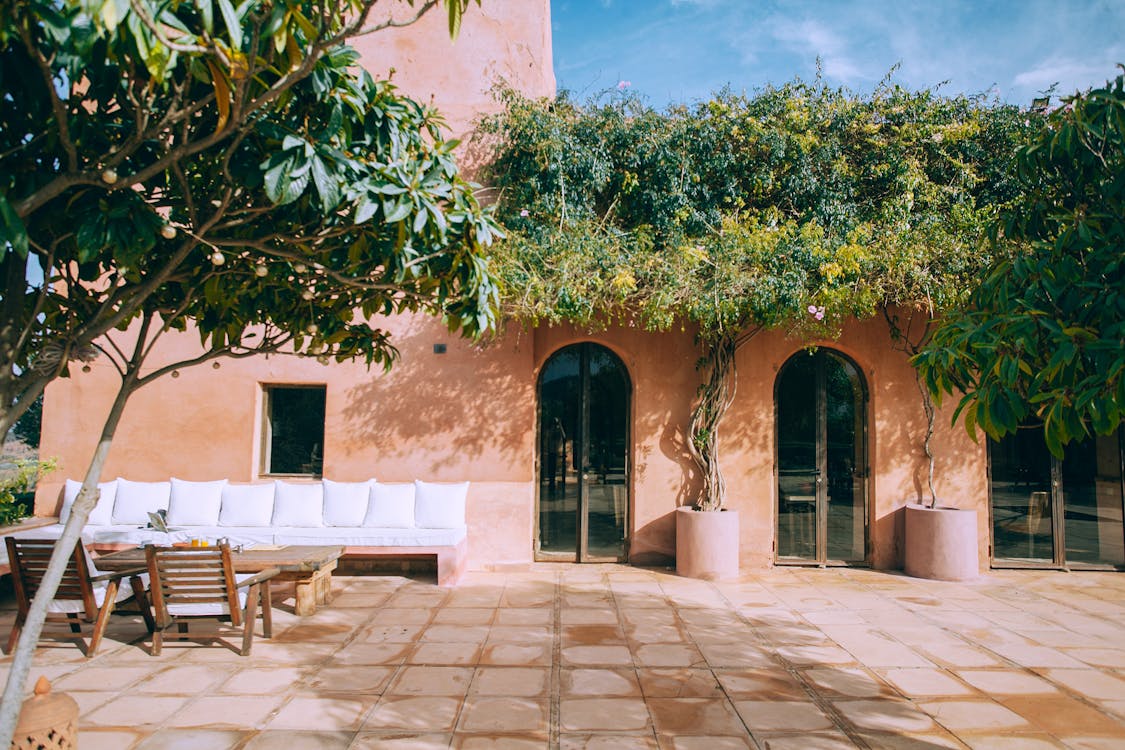 You have likely seen magazine spreads and Pinterest images of people's beautiful backyards with gardens that may be overwhelming and too much maintenance for most urban homeowners. Hardscape plus plants, furniture, and fabrics are what make a backyard something way more than an area of space that happens to be outdoors. The perfect balance of hardscape and softscape will make you want to spend more time outdoors or even bring your laptop outside to answer some emails.
Or instead, you can enjoy your new patio while embracing slow living and the sweetness of doing nothing.
Read Christine B.'s review of Torrey Pines Landscape Company on Yelp
Torrey Pines Landscape Company is a design and build professional landscaping company that makes patio dreams into realities. You can give them a call today.
Torrey Pines Landscape Company
5560 Eastgate Mall, San Diego, CA 92121, United States